Firelands Chevrolet Buick is proud to be a Gold Class ® collision repair business. The Gold Class recognition indicates that our technicians are trained in the proper repair techniques and procedures that contribute to the complete and safe repair of your vehicle.
As a Gold Class shop, we require each of our technicians involved in collision repair to take ongoing training every year. This includes classes on new vehicle technologies and the latest repair techniques.
Let Us Restore Your Car's Original Beauty in Norwalk, OH
Remember how you fell in love with your car when you first saw it? Its smooth body and shiny chrome accents won you over immediately. If your vehicle has lost some of its luster, bring it to the collision center at Firelands Chevrolet Buick in Norwalk, OH. We're proud Gold Class® collision repair specialists, and we can restore your car's original beauty.
A Gold Class® Shop with Well-Trained Technicians
Just from sitting in a store parking lot, your vehicle can develop dings from wayward shopping carts or careless people's car doors. Snow, ice, and rain in Norwalk, OH can take its toll on your car's exterior, or you may have had a fender bender. Even if there's a small scratch on your vehicle that no one else seems to notice, you know it's there. If you're fed up with these unsightly scars on your car, bring it to Firelands Chevrolet Buick. Since we're a Gold Class® shop, our expert auto body technicians undertake continual training on the latest technology and repair techniques to ensure we're ready and able to make your car's body look like new again.
Free Estimates, Paintless Dent Repairs, and a Lifetime Guarantee on Our Work
The professional auto body specialists at Firelands Chevrolet Buick provide free estimates, and we'll work with your insurance company. We perform any kind of repairs - from minor nicks to large dents. We also work on all makes and models and provide same-day service for most simple fixes. Norwalk, OH drivers will like our paintless dent repair system, which can save them hundreds of dollars. We offer a lifetime guarantee on all repairs, and loaner cars are available if necessary. Contact Firelands Chevrolet Buick today and let us renew the look of your car!
WHY CHOOSE FIRELANDS CHEVROLET BUICK
FREE ESTIMATES  
WE WORK ON ALL MAKES AND MODELS  
RECOGNIZED BY THE INDUSTRY AS HAVING ONE OF THE MOST HIGHLY TRAINED SET OF TECHNICIANS IN THE AREA  
WE WORK WITH ALL INSURANCE COMPANIES  
WE PERFORM ALL REPAIRS FROM THE SMALLEST DOOR DING TO THE HEAVIEST COLLISION REPAIR NEEDED AFTER A MAJOR ACCIDENT  
PAINTLESS DENT REPAIR AVAILABLE …SAVING YOU 100'S OF DOLLARS  
LIFETIME GUARANTEE ON ALL REPAIRS  
SAME DAY RETURN ON MOST SIMPLE REPAIRS  
RENTAL/LOANER CARS AVAILABLE PENDING UPON YOUR NEEDS  
NEWEST UNIBODY ALIGNMENT SYSTEM IN THE AREA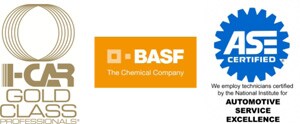 Firelands Chevrolet Buick is among only 15 percent of collision repair businesses to achieve Gold Class status, whereas shops that are not Gold Class may train minimally or not at all. Gold Class shops are trained on how to fix your vehicle right; on what can be repaired and what needs to be replaced; and on how to see hidden damage you may not see.
Two out of three people find a repair shop by talking to friends or relatives. Don't take chances. Refer your friends and family to Firelands Chevrolet Buick and let our trained repair professionals take care of them today!